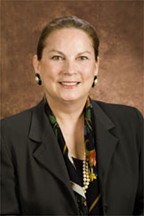 Hon. Anne C. Dranginis (Ret.) of Litchfield, Connecticut, an attorney in the Hartford office of Rome McGuigan P.C. was elected President of the Hartford County Bar Association at its Annual Meeting at The Bond Ballroom on May 10, 2016.
Biography
Attorney Dranginis held a number of leadership positions within the Association prior to being elected President. Anne C. Dranginis retired as an Associate Judge of the Connecticut Appellate Court on January 31, 2006, to become a principal at Rome McGuigan, P.C. She received her undergraduate degree in 1969 from Manhattanville College, Purchase, N.Y., and received a J.D. at the University of Connecticut School of Law in 1972. Anne Dranginis practiced with the firm of Rome and Case in Bloomfield, Connecticut until 1977 when she became the first woman Assistant State's Attorney for the Connecticut Superior Court. She prosecuted major felonies for eight years, including the prosecution of Charles "Buck" Thurman, whose wife, Tracy was brutally beaten, and which case spurred the development of family violence laws throughout the country. She was appointed in 1985 to the Connecticut Superior Court, and in 2000, she was elevated to the Appellate Court. Read more here
In addition to the election of President Dranginis, the following Officers were elected: Robert E. Kaelin, President Elect; Michael Menapace, Treasurer; Patrick Tomasiewicz, Secretary and Thomas A. Gugliotti, Past President.
The following awards were presented:
The 2016 Judge Maxwell Heiman Memorial Award-Presented to Attorney Genea O. Bell, Chief Legal and Human Resources Officer, Community Health Services, Inc.
The 2016 John M. Bailey Award for Public Service– Presented to Timothy S. Fisher, Dean, University of Connecticut School of Law
The 2016 Hartford County Bar Association President's Award for Excellence-Presented to Attorney John C. Matulis, Jr., The Law Offices of Januszewski, McQuillan and DeNigris, LLP
The Hartford County Bar Association is a voluntary not-for-profit association of lawyers and judges in Hartford County, dedicated to promoting public service and advancing the principles of law and justice through its more than 2000 members. The Hartford County Bar Association, established in 1783, is reputed to be the oldest continuously operated Bar Association in the country.